Here are 5 ways to make your bio link page stand out in 2023
Created on 13 January, 2023 • Marketing Stratagies • 399 views • 2 minutes read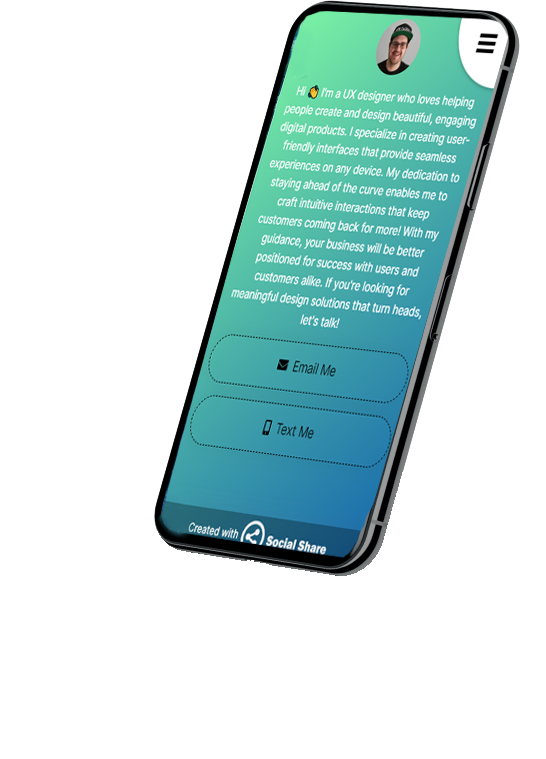 Creating a bio link page has never been easier, but making an effective page can be tricky.
Here are 5 useful tips when creating a Bio Link Landing Page for 2023
Make one link stand out
Try to drive traffic to the most important link. We don't always know what a user is looking for, so having options is great. It won't help you accomplish everything. That is why one link should be more prominent and styled slightly differently. Notice the next time you look at a page and see what you notice first. This will help you understand your visual hierarchy. This is one of the essential marketing tips, since these pages can often look the same. Using the same styles for consistency can be great, until you need something to stick out. So try making the most important really shine. We also offer animation for our links on our Social Share builder.


Be on brand
Branding is so important and crucial to drive traffic. We can be put off by mismatched designs. Make sure you stick to colors that flow nicely together. Developing a strong link bio page requires careful consideration of branding details from color scheme and font choice to content composition or videos. The goal is to create a consistent look across all digital platforms while also providing enough detail about yourself and/or business so that visitors can make an informed decision as to whether they should hire you or purchase your services. By using pictures, descriptions, contact information etc.


Unlocking the Power of SEO Through Social Share Bio link Pages
With Bio link Pages, businesses can easily create optimized pages that are tailored towards specific target audiences and search queries. Set any piece of content to be seen by different audiences in our tool. This helps ensure that these pages show up in the highest positions when potential customers search relevant keywords or terms. Additionally, the content featured on these pages can be tailored specifically towards what people are searching for online, allowing them to quickly find the information they need without having to sift through irrelevant results. We have the ability for you to write a meta description, opengraph image and Page Title right within our tools.
Harness Link Data for Maximum Link Performance
Every link is tracked, see where each visitor was from and the browser they used. Data can be used for a variety of purposes such as understanding your audience. Marketing the right segments and more. We offer full analytics suit in our business plan.


Show unique content that helps engage your audience
When content is shared with your audience, it should be interesting, valuable and unique in order to generate interest. To help engage your audience, start by creating content that is different than what anyone else has done before. This could mean writing a blog post on a topic that hasn't been covered yet or creating videos that show how your product works in detail. Add images, music, and videos that inspire. Whatever it is that you do share it with the world. Social Share makes it easier than ever to share what you want with your audience.
Make sure to share your page in all your Social Bio Links. This will help you reach the right audience.